La France commémore avec retenue les attentats jihadistes du 13 novembre
INTERNATIONAL- La France a marqué dimanche le premier anniversaire des attentats jihadistes du 13 novembre 2015 dans une très grande sobriété, au lendemain d'un émouvant concert de réouverture de la salle parisienne du Bataclan donné par Sting.
Le président François Hollande a présidé les commémorations, dévoilant des plaques en mémoire des victimes sur l'ensemble des sites frappés il y a un an par les commandos du groupe Etat islamique (EI).
Du Stade de France au Bataclan, en passant par six bars et restaurants du nord-est de Paris, les jihadistes avaient tué 130 personnes, blessé 400 autres. Ces attentats, les pires que la France ait jamais connus, ont profondément meurtri le pays.
Un an plus tard, à la demande des associations de victimes, les commémorations se sont déroulées selon un cérémonial extrêmement dépouillé. A chaque étape, le même scénario s'est répété: plaques révélées, minute de silence, dépôt de gerbe, noms des victimes égrenées.
Ni le président socialiste, ni la maire de Paris Anne Hidalgo, n'ont dit un mot. A moins de six mois de l'élection présidentielle, les autorités ne voulaient pas être accusées de "récupération politique".
Le seul discours a été prononcé par Michael Dias, dont le père Manuel, 63 ans, a été le premier à périr, dans l'explosion de la ceinture piégé d'un kamikaze aux abords du Stade de France, au nord de la capitale. "Nous devons nous efforcer de combattre la stigmatisation et la division; l'intégration est la solution", a-t-il lancé dans un hymne à la "tolérance" et à l'"intelligence".
Pourtant, la France, frappée par d'autres attaques jihadistes, s'est indéniablement durcie au cours de l'année écoulée. L'état d'urgence, un dispositif d'exception mis en place juste après le carnage, sera "sans doute prolongé de quelques mois" jusqu'au scrutin présidentiel, a déclaré le Premier ministre Manuel Valls.
Ecoles sous haute surveillance, patrouilles militaires dans les rues, crispations à l'égard de la communauté musulmane: "nous ne sommes plus tout à fait ce que nous étions", écrit le quotidien Le Parisien en Une.
Un an après l'horreur, 59% des Français estiment que ces événements changeront pour toujours leur manière de percevoir la vie, 56% restent "en colère", selon un sondage publié par le journal.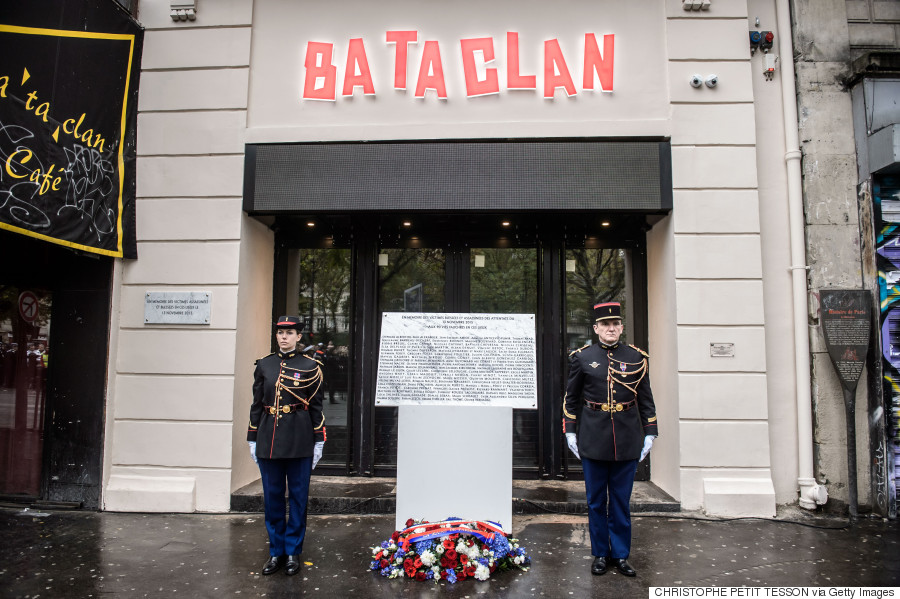 Cassure entre deux jeunesses
Dans le nord-est branché et cosmopolite de Paris, où se trouvent les sites frappés, des centaines de personnes ont suivi avec recueillement les cérémonies.
Olivier, 28 ans, qui fut blessé dans le bar le Carillon, a apprécié le ton économe des hommages, mais souhaite que la France aille plus loin. "Il est important de comprendre comment on en est arrivé là, pourquoi il y a une cassure entre deux jeunesses", a-t-il dit à l'AFP. Plusieurs des auteurs des attentats étaient de jeunes Français.
Des étrangers s'étaient également glissés dans les rangs recueillis devant le Bataclan, où des jihadistes avaient semé la mort pendant un concert du groupe de rock américain Eagles of Death Metal. "Beaucoup de Japonais ne viennent plus à Paris à cause des attentats, mais je veux me tenir au côté de la France", expliquait Yoshihide Miwa, 49 ans, venu d'Osaka. En un an, Paris et sa région ont perdu près de deux millions de visiteurs.
La salle, entièrement rénovée, a repris vie samedi soir avec un concert de Sting. Après une minute de silence, la star britannique a chanté pour "se souvenir de ceux qui ont perdu la vie dans l'attaque" mais aussi pour "célébrer la vie, la musique dans ce lieu historique".
En marge du concert, la direction du lieu avait annoncé avoir refoulé Jesse Hughes, le chanteur d'Eagles of Death Metal, en raison de ses déclarations soupçonneuses à l'encontre des vigiles. Mais le manager du groupe a démenti cet incident. Dimanche, le chanteur a tout de même assisté au dévoilement de la plaque aux "90 vies fauchées en ces lieux".
Le programme officiel s'est conclu par un lâcher de ballons, sur fond de gospel, devant la mairie du quartier.
L'après-midi, les blessés, rescapés et personnes endeuillées sont invités à une "table ronde" en présence notamment d'un psychiatre et d'un historien. Le soir, l'archevêque de Paris, le cardinal André Vingt-Trois, présidera une messe en hommage des victimes à la cathédrale Notre-Dame, tandis que les Parisiens sont appelés à allumer une bougie à leurs fenêtres.
Retrouvez les articles du HuffPost Tunisie sur notre page Facebook.