Amatrice et Accumoli, deux villages médiévaux ravagés par le séisme en Italie
ITALIE - Ce sont deux petites communes de la région du Latium, à une centaine de kilomètres au Nord-Est de Rome. Amatrice et Accumoli, où vivent respectivement 800 et 1700 habitants, ont été dévastées par le séisme ressenti jusqu'à la capitale, qui a frappé l'Italie mercredi 24 août.
Le tremblement de terre de magnitude 6,2, qui a fait au moins 18 morts, selon le bilan provisoire communiqué par les médias italiens en milieu de matinée, n'a pas épargné ces deux villages médiévaux. On peut le voir notamment dans ces images symboliques, repérées par nos confrères du Huffington Post italien, qui montrent l'horloge du clocher d'Amatrice bloquée à 3h36, à l'heure du séisme.
Voici d'autres photos impressionnantes relayées par les médias et sur les réseaux sociaux:
À #Amatrice, la levée du jour fait apparaître un véritable paysage de désolation https://t.co/FQ7ucxgWac #terremoto pic.twitter.com/K28lkSK43E

— Quentin Blanc (@Q_Blanc) 24 août 2016
Images d'#Amatrice. La moitié du village n'existe plus dit son maire. #Italie #seisme #terremoto pic.twitter.com/1VqSvsRO3k

— François Beaudonnet (@beaudonnet) 24 août 2016
Aerial view of the damage in #Amatrice #Italy pic.twitter.com/YzsTvdvDqY

— Amichai Stein (@AmichaiStein1) 24 août 2016
BREAKING Mayor of #Accumoli #Italy, a town about 95 miles from #Rome, says 4 people killed in the earthquakes - RAI pic.twitter.com/M7jiNPVE4U

— Vocal Europe (@thevocaleurope) 24 août 2016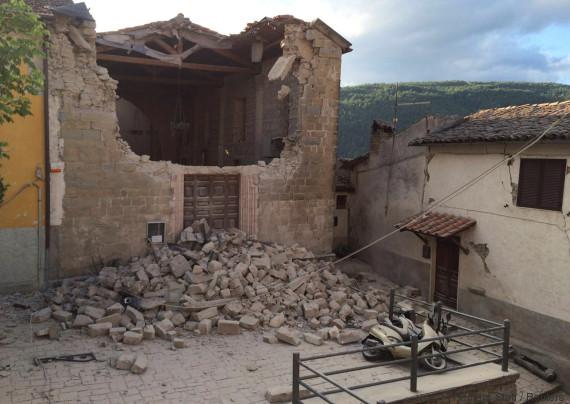 Interrogé par l'agence italienne Agi, le maire d'Accumoli, située tout près de l'épicentre du séisme, faisait tôt mercredi matin état d'un mort, décrivant une ville à moitié détruite. Selon lui, au moins quatre personnes sont encore prisonnières des décombres. "Ici, c'est une tragédie, nous avons des morts et des bâtiments détruits", a-t-il déclaré.
Deux personnes ont aussi rapidement été retrouvées sans vie dans les décombres à Amatrice.
Non loin de là, la situation était aussi décrite comme "apocalyptique" dans la commune de Pescara del Tronto, particulièrement touchée par le séisme.
#DIRECT Puissant séisme en #Italie : une situation «apocalyptique» à Pescara del Trontohttps://t.co/nEogsXzghw pic.twitter.com/cwKGql8TLy

— Le Soir (@lesoir) 24 août 2016
Bimbo estratto vivo dalle macerie a Pescara del Tronto #cronacaascoli https://t.co/htT5IdvY38 pic.twitter.com/8rVSuBaUYx

— Tgcom24 (@MediasetTgcom24) 24 août 2016
LIRE AUSSI:
Le monde commémore les 10 ans du tsunami en Asie
BANDA ACEH, INDONESIA - DECEMBER 25: Fishermen collect fish caught in their net on the coastline in Lamtutui village on December 25, 2014 in Banda Aceh, Indonesia. Aceh was the worst hit location, being the closest major city to the epicentre of the 9.1 magnitude quake, suffering a huge hit from the following tsunami and resulting in around 130,000 deaths. Throughout the affected region of eleven countries, nearly 230,000 people were killed, making it one of the deadliest natural disasters in recorded history. (Photo by Ulet Ifansasti/Getty Images)

BANDA ACEH, INDONESIA - DECEMBER 25: A group of fishermen pull fishing nets on the coastline in Lamtutui village on December 25, 2014 in Banda Aceh, Indonesia. Aceh was the worst hit location, being the closest major city to the epicentre of the 9.1 magnitude quake, suffering a huge hit from the following tsunami and resulting in around 130,000 deaths. Throughout the affected region of eleven countries, nearly 230,000 people were killed, making it one of the deadliest natural disasters in recorded history. (Photo by Ulet Ifansasti/Getty Images)

Thai soldiers stand guard as they practice ahead of the tenth anniversary of the 2004 tsunami at the police noat T813 tsunami memorial in Phang-nga province on December 25, 2014. In the morning of December 26, 2004 a 9.3-magnitude earthquake off Indonesia's western coast generated a series of massive waves that killed more than 220,000 people across 14 countries as far apart as Indonesia, Sri Lanka and Somalia. AFP PHOTO/Pornchai KITTIWONGSAKUL (Photo credit should read PORNCHAI KITTIWONGSAKUL/AFP/Getty Images)

Foreign tourists relax at Patong beach in Phuket province on December 25, 2014. In the morning of December 26, 2004 a 9.3-magnitude earthquake off Indonesia's western coast generated a series of massive waves that killed more than 220,000 people across 14 countries as far apart as Indonesia, Sri Lanka and Somalia. AFP PHOTO/Pornchai KITTIWONGSAKUL (Photo credit should read PORNCHAI KITTIWONGSAKUL/AFP/Getty Images)

A tourist rides a bicycle past a large poster ahead of the tenth anniversary of the 2004 tsunami at Patong beach in Phuket province on December 25, 2014. In the morning of December 26, 2004 a 9.3-magnitude earthquake off Indonesia's western coast generated a series of massive waves that killed more than 220,000 people across 14 countries as far apart as Indonesia, Sri Lanka and Somalia. AFP PHOTO/Pornchai KITTIWONGSAKUL (Photo credit should read PORNCHAI KITTIWONGSAKUL/AFP/Getty Images)

Foreign volunteers carry chairs as they prepare for the tenth anniversary of the 2004 tsunami at Patong beach in Phuket province on December 25, 2014. In the morning of December 26, 2004 a 9.3-magnitude earthquake off Indonesia's western coast generated a series of massive waves that killed more than 220,000 people across 14 countries as far apart as Indonesia, Sri Lanka and Somalia. AFP PHOTO/Pornchai KITTIWONGSAKUL (Photo credit should read PORNCHAI KITTIWONGSAKUL/AFP/Getty Images)

Foreign tourists walk past a large poster ahead of the tenth anniversary of the 2004 tsunami at the police noat T813 tsunami memorial in Phang-nga province on December 25, 2014. In the morning of December 26, 2004 a 9.3-magnitude earthquake off Indonesia's western coast generated a series of massive waves that killed more than 220,000 people across 14 countries as far apart as Indonesia, Sri Lanka and Somalia. AFP PHOTO/Pornchai KITTIWONGSAKUL (Photo credit should read PORNCHAI KITTIWONGSAKUL/AFP/Getty Images)

Thai soldiers parade as they practice ahead of the tenth anniversary of the 2004 tsunami at the police noat T813 tsunami memorial in Phang-nga province on December 25, 2014. In the morning of December 26, 2004 a 9.3-magnitude earthquake off Indonesia's western coast generated a series of massive waves that killed more than 220,000 people across 14 countries as far apart as Indonesia, Sri Lanka and Somalia. AFP PHOTO/Pornchai KITTIWONGSAKUL (Photo credit should read PORNCHAI KITTIWONGSAKUL/AFP/Getty Images)

Thai soldiers parade as they practice ahead of the tenth anniversary of the 2004 tsunami at the police noat T813 tsunami memorial in Phang-nga province on December 25, 2014. In the morning of December 26, 2004 a 9.3-magnitude earthquake off Indonesia's western coast generated a series of massive waves that killed more than 220,000 people across 14 countries as far apart as Indonesia, Sri Lanka and Somalia. AFP PHOTO/Pornchai KITTIWONGSAKUL (Photo credit should read PORNCHAI KITTIWONGSAKUL/AFP/Getty Images)

Thai soldiers parade as they practice ahead of the tenth anniversary of the 2004 tsunami at the police noat T813 tsunami memorial in Phang-nga province on December 25, 2014. In the morning of December 26, 2004 a 9.3-magnitude earthquake off Indonesia's western coast generated a series of massive waves that killed more than 220,000 people across 14 countries as far apart as Indonesia, Sri Lanka and Somalia. AFP PHOTO/Pornchai KITTIWONGSAKUL (Photo credit should read PORNCHAI KITTIWONGSAKUL/AFP/Getty Images)

Christians attend the mass service at a flooded church in Bandung, in western Java island, on December 25, 2014. Millions of Christians in Indonesia celebrate the Christmas eve in the most populous Muslim country. AFP PHOTO / Timur MATAHARI (Photo credit should read TIMUR MATAHARI/AFP/Getty Images)

Christians attend the mass service at a flooded church in Bandung, in western Java island, on December 25, 2014. Millions of Christians in Indonesia celebrate the Christmas eve in the most populous Muslim country. AFP PHOTO / Timur MATAHARI (Photo credit should read TIMUR MATAHARI/AFP/Getty Images)

In this picture taken on December 24, 2014 Christians hold candles during the mass service in Surabaya, in the eastern Java island. Millions of Christians in Indonesia celebrated Christmas eve in the most populous Muslim country. AFP PHOTO / Juni KRISWANTO (Photo credit should read JUNI KRISWANTO/AFP/Getty Images)

In this picture taken on December 24, 2014 Christians hold candles during the mass service in Surabaya, in the eastern Java island. Millions of Christians in Indonesia celebrated Christmas eve in the most populous Muslim country. AFP PHOTO / Juni KRISWANTO (Photo credit should read JUNI KRISWANTO/AFP/Getty Images)